write random and join in below!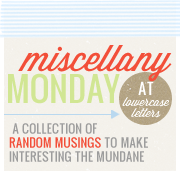 don't worry... my misc monday button has not missed the blog makeover. hannah is working on a new one for me. she's the best. so so so talented. i love her.
1. the week (the one where my man was off) that i never wanted to come to an end has ended.
2. the best thing about a staycation instead of a vacation is that you don't have unpacking and loads of laundry to do the monday after.
3. yesterday, since my worship leading husband was off work, we went to church as a family for the first time ever. normally he is there five hours before we are. it was great and weird and made my life five thousand times easier all at once.
4. big haired boy got a big haircut... not a minute too soon. let's hope this will save us some haircuts and money.
5. sage babe is now a converse babe. have i told you how glad i am that we have a converse outlet?
because i am. especially when they cost $14.97.
6. have i told you lately how much i love them?!
i love them!!! and their handsome daddy! yes, i may have cried this morning as daddy left for work.
7. i played photographer for my sister-in-law and her family. it was fun and nerve-wracking. here's a preview:
8.
feeding america
contacted me about sharing their
backpack program
with you. the backpack program is an effort to ensure that children have food to eat over the long thanksgiving break. chances are, if you have a computer and have kids, your kids are getting meals everyday. breakfast, lunch, and dinner. we live in our warm and comfy homes with our full tummies and somehow lose sight of the needs of those around us, who don't have the same "luxuries." the economy is bad and things are tight for so many, but for some this means choosing between buying gas to get to work to make a small salary or feeding their children. it's a hard choice. i encourage you to get involved, whether it's helping with a local food bank, your church's outreach program, or feeding the homeless... do something. we think we can only help by traveling to a far-away land. there are needs in our own town and neighborhoods and backyards.
9. if you have been out-of-the-loop, and have yet to enter the Legacy Bracelet giveaway, you must. look at the beauty at stake:
{miscellany monday}