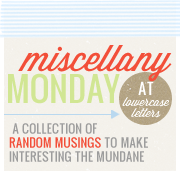 3.
as much as i want to remain californian, the longer i'm here the more south carolinian i become, y'all. i even whipped up my southern boy some shrimp and grits. if he forgot why he loved me, this pretty much sealed the deal all over again. ; )
shrimp and grits
, by Robert Irvine, get the recipe
here
. next time i make it i will add bell peppers, bacon and some gouda to kick it up a notch. i have to pull out all the stops.
4.
hunter's birthday party happened two weeks after his actual day and took place this weekend. the wait just prolonged the partying so he didn't complain one bit. we go very low-key for our kids' parties. like think of spending all of $20 ish bucks on the whole thing. we had homemade egg free cupcakes, juice, presents, and our immediate family helped us party.
5.
normally i like to make homemade birthday banners, and cupcake toppers, but when my boy saw Thomas at Target his heart went pitter patter. plus it all only cost $4. i took stickers and put them back-to-back with a toothpick in-between for cupcake toppers. simplest ones i've ever made.
(forgive my icing for it's frumpy-ness. it was a sloppy, busy morning that day.)
6.
he wanted to wear his party hat all week until it was party time, of course. he talked about these things for seven straight days. i was painfully confused over his sudden change of heart. the presents and guests were the perfect cure for this cranky onset. so then we partied. hunter wanted it to last for five days. he said so himself.
sage and papa (kelly's dad)... this is a major milestone. sage was content in someones arms, other than my own, for the entire party.
my mom was so ready to steal my bff's baby girl. i don't think she let her go the entire time. that's a grandma for you.
sage and her aunt becky. ps. thank you for the prayers for my sister-in-law, becky and her baby. your encouragement after friday's post was very kind. you sweet things, you.
{miscellany monday}