write random, grab the button, and join in below.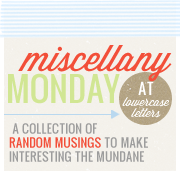 1. since i grew up in california, our family vacations often included trips to Cabo San Lucas, fish taco central. i have a special fondness for them, in a way where i could eat one (or five!) every day. i've made fish tacos on a few occasions, but these ones, these ones were to die for. i adapted a recipe and made it my own. talk about fancy for this girl who doesn't love to cook.
baja california fish tacos, adapted from here
for the creamy sweet red pepper sauce:
1/4 cup mayonnaise
1/4 cup plain yogurt
1/2 cup red pepper jelly
juice from a lime (appx. 2 tbsp)
1 tsp pepper
1/2 tsp salt
1/8 tsp garlic powder
directions: combine all ingredients in a small bowl and refrigerate for 30 minutes.
for the fish:
1 lb fresh cod (i used frozen wild cod from Trader Joe's - great prices!) cut into strips of 2-3 oz portions
1/4 cup all-purpose flour
1/4 cup cornmeal
1/2 tsp salt
1/4 tsp pepper
1/4 tsp garlic powder
1/2 cup milk
canola oil
cabbage
tortillas
directions: in a dish, combine all the dry ingredients. in a separate dish, add the milk. dip fish into the milk and then coat with the dry ingredient mixture. pour enough canola oil into a large skillet to reach a depth of 1/4 inch. fry fish until golden brown on all sides, appx. 4-6 minutes. to serve, fill tortillas with fish and shredded cabbage. drizzle with creamy sweet red pepper sauce. take one bite and get swept off to the coast of Baja California.
2. after spending nearly ten hours on delta.com, some serious finagling, the gift of skymiles, and the generosity from family members, we are going home to california this summer! it was no small miracle either - i had to book all our tickets separately and prayed that our kids wouldn't end up on random flights all alone. oh please come quickly, july. cool breezes, mosquito-less days, foggy nights, and gobs of family time could not arrive soon enough.
3. i got to take pictures of
this pretty girl
yesterday. we stayed in our backyard, used our neighbor's weeping willow tree and somehow it looks like we're smack dab in a jungle somewhere. fun!
4. i do declare we went to the most gorgeous wedding on saturday - it was our Pastor's daughter's big day. my honey played the music and i just sat. it's been a long time since i've just sat at a wedding and didn't have to take pictures. it was so easy. the bride and groom even left the aisle in a horse-drawn carriage. sometimes i want kelly and i to get married all over again just to create a dreamy day once more. but then i remember the price tag and the stress and praise God it's all over with. : )
5. i wore my ages old elephant necklace this weekend and have decided that everyone should own one. mine is from target (think 5 years ago). i bought it then for Republican pride, i do confess. don't hold it against me. ; )
6. HAPPY MEMORIAL DAY to everyone. freedom costs many americans just that - and not only that, but their life, too. let's remember them today with highest honor.